Dennis Wissinger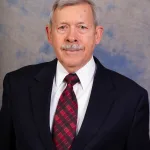 Hello, I am Denny Wissinger, your Central Bay District Lay Leader. I have been serving in this position for three and one-half years. My home church is Farwell UMC. As far as background goes, I am retired from the U.S. Army where I served for 21 years, followed by being retired from the Federal Aviation Administration where I served for 18 years. My wife, Ruth Ann, and I have four children, six grandchildren, and four great-grandchildren.
I have been a United Methodist since it came into existence in 1968, and prior to that time I belonged to the Evangelical United Brethren Church. Among many of my duties, I serve as the lay representative of our District, serving on many of the District committees, and the Michigan Conference Board of Laity. It is also my duty to be available to serve and assist laity throughout our District. Anyone wishing to contact me may feel free to call me at 989.429.4772, or email me at [email protected]
Dawn Levey
I would like to take the time to introduce myself, Dawn D Levey, co-district Lay Leader. I am a member of Elsie United Methodist Church in Elsie and I just celebrate 49 years of marriage to Bruce Levey. We have two children, recently our oldest daughter passed away unexpectedly and six grandchildren.
God through love and grace gives us gifts to share with others in His name, I cannot specifically identify my talents, I enjoy people, sharing the blessings and growth I have made, decorating and event planning at my local church. I am still growing in my faith walk.
That being said, I would like to attend special events at the churches in the Central Bay District. Please forward invitations to my so I can set my calendar, [email protected] or 517-927-6258. If you need assistance please reach out, if I do not have the answer, I will find it for you.